Spectre of match-fixing haunts Ireland's Airtricity League
September 13, 2018
Last week's defeat of Monaghan United by Shelbourne led to Uefa being informed of irregular patterns of betting; it's an unwelcome problem in Ireland's top flight
The Airtricity League of Ireland has informed Uefa of irregular betting patterns concerning the match between Shelbourne and Monaghan United on Friday May 4. The unusual patterns centred around the probability of a penalty being awarded during the game at Tolka Park.
The match ended 2-1; a penalty was awarded to Monaghan early in the second half. League of Ireland director Fran Gavin informed both teams before kick-off of the irregular betting patterns the match attracted.
Roddy Collins, the Monaghan boss, was disgusted to hear of the allegations and said: "I knew before the game. One of the players had a text from his girlfriend saying that there was irregular betting on a penalty. If anyone ever tried to get involved in something like that I'd bring them straight to the police station and I'd make sure they never kicked a ball again because that, for me, is the lowest of the low."
The allegations remain unfounded and it is up to Uefa to decide on the next course of action. The Football Association of Ireland (FAI) will also continue to monitor the case.
Unfortunately, allegation and suspicion have reared their ugly head in the League of Ireland before and it is becoming a pressing concern for both FAI and the the wider football community. Last season, in the fourth round of the FAI Cup, the match between Shelbourne and rank outsiders Sheriff YC aroused great suspicion as it also attracted irregular betting patterns.
Sheriff YC, a non-league side, caused a huge upset in beating Shelbourne 3-2 after coming from 0-2 down. The giantkillers gained sustained support in the betting markets in the days before the game and were even backed at half time when they were two goals behind.
The FAI ultimately disqualified Sheriff YC for fielding an ineligible player and Shelbourne went on to finish runners-up in the competition. Although NOTHING has been proven in terms of match-fixing, it is fair to say the type of betting the game attracted, and the eventual outcome of the match, gave cause for concern. Social network sites were alive with rumour and commentary, proving that even the slightest doubt as to the integrity of matches is detrimental to the League of Ireland and football as a whole.
Peter Kingston of Kingbet bookmakers, based in Drogheda, Co Louth gave us the layer's view and what sort of betting arouses suspicion.
"I would look out for bets such as unusual correct score bets or half time forecasts," he told Goal.com Ireland.
He added: "The amount of money and geography is important too.
"If I receive a large bet in my shop on a relatively meaningless match played in the other side of the country, that would get my attention. Sometimes the punter simply knows more than the bookmaker about a certain match and you have to applaud the punter for that.
"For instance, it can sometimes be hard to get team news in the First Division in Ireland or in obscure leagues around Europe. The punter may simply just have better information," said Mr Kingston.
Referring to the Shels and Sheriff YC match last season, he said: "I did not receive any unusual bets for that match myself but from speaking to other bookmakers some of them did. In some cases the bets were Shels to be leading at half time and Sheriff YC to be winning at full time which is very unusual considering the non-league side were huge outsiders.
"In fairness, looking at the goals Sheriff scored and the general play, it did not seem to match the suspicious bets."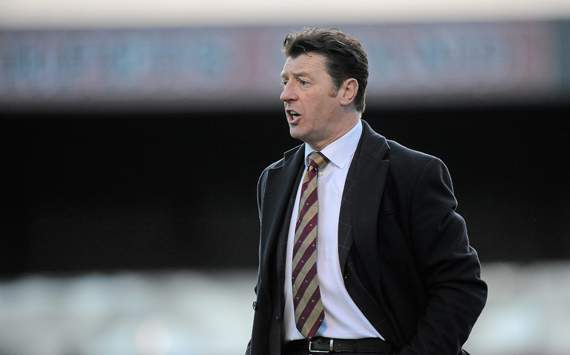 "Lowest of the low" | Monaghan manager Roddy Collins has promised to report any player involved in the practice
On the whole, Mr Kingston has no concerns about laying bets in the League of Ireland but is particularly mindful of end of season encounters when teams may have hectic schedules and are involved in non-priority cup competitions.
"I am careful about the end of season or when teams are in the midst of a hectic schedule," he said.
"It may not suit them to progress in a cup competition or they may be involved in meaningless mid-table matches and these are the sort of matches that I would be careful about in terms of laying big bets."
On a wider scale match-fixing represents the single greatest threat to the football authorities. Recently, Uefa President Michel Platini spoke of the "mortal danger" of games being thrown and its grave threat to the future of football.
The uncomfortable reality is that match-fixing, or at least, the conspiracy to fix matches for financial gain is more widespread than we think. The global recession has hit football hard and it makes leagues such as the Ireland's top flight vulnerable.
Players in the League of Ireland are not well paid in comparison to other leagues around Europe. Nowadays, with online betting exchanges and the huge variety of betting markets, it makes it easier for people to get bets on.
Punters can profit nowadays on a wide a variety of betting markets and can bet on a red card to be shown in a match or a penalty to be awarded. The temptation is there for participants to do the same and profit accordingly.
It must be said not all 'irregular' betting movements have a dark motive behind them and can be easily explained. Sometimes a betting syndicate acting as a group can identify a perceived punting opportunity and act on it. Due to the sheer weight of money, that can be perceived as suspicious among the betting fraternity.
In 2008, a Championship match between Norwich City and Derby County attracted a huge market movement at half time in Asia, which led the FA to initiate an investigation. The FA was blocked in its investigation by the betting operators SBOBET and IBCBET as they viewed requests for confidential client information as 'excessive.' The FA eventually cleared both clubs of any wrongdoing.
In 2009, German prosecutors started an investigation into over 200 matches. Police carried out raids in the UK, Germany, Switzerland and Austria, making 17 arrests. Uefa representative Peter Limacher said it was the biggest match-fixing scandal ever to hit Europe. The matches under investigation were played in Switzerland, Germany, Belgium, Croatia, Slovenia, Hungary, Bosnia-Herzegovina and Turkey.
At least 12 of the matches were in the Europa League and three were in the Champion League, the biggest club competition in the world. Recent scandals in Italy and Turkey show that match-fixing is becoming a huge problem that the football authorities must deal with in robust fashion.
When the trust is broken between the spectators and the participants, when fans do not believe in the integrity of the players, it has a corrosive effect on the sport as a whole. It is the greatest danger football faces.