Serena Williams controversially lost to Osaka at US open
September 9, 2018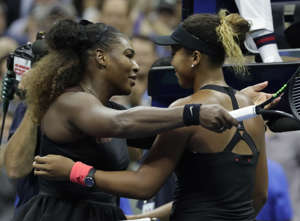 © (AP Photo/Julio Cortez) Serena Williams hugs Naomi Osaka, of Japan, after Osaka defeated Williams in the women's final of the U.S. Open tennis tournament, Saturday, Sept. 8, 2018, in New York. (AP Photo/Julio Cortez)
NEW YORK — Naomi Osaka made history at the US Open on Saturday, becoming the first Japanese player to win a Grand Slam title.
But that's not what this match will be remembered for.
A year after "fighting for her life" and undergoing four surgeries after giving birth to daughter Olympia, Serena Williams was defeated 6-2, 6-4 in maybe the most controversial final ever.
She was called for a game penalty for verbally abusing chair umpire Carlos Ramos after two warnings – one for coaching and one for smashing her racket.
"You owe me an apology. You stole a point from me. You're a liar," Williams said.
She repeatedly demanded an apology.
Ramos then said game penalty, verbal abuse, which put Williams serving at 3-5. She then was near tears as she asked for officials to come out. She repeatedly argued that she was being treated unfairly.
The first offense is a warning, the second a point and the third a game.
"I don't cheat to win, I'd rather lose," Williams said after the chair umpire issued a warning when Williams' coach Patrick Mouratoglou gave her a hand signal early in the second set.
Instead, Osaka won when she served for the match after Williams held serve.
Williams embraced her at the net as both players cried.
"Well, I don't wanna be rude, she played well and this is her first Grand Slam," Williams said after the match, as she fought back tears. "Let's make this the best moment we can, let's give credit where credit is due and no more booing. Congratulations Naomi!"
"Thank you to the crowd, you really are the best in the world. I really hope to play here again, it's been a tough year but thank you so much."
Osaka stood next to her crying as Williams put her arm around her.
Everyone in Osaka's box was reduced to tears – including her mother and Williams' former hitting coach Sascha Bajin.
Osaka apologized to the crowd. "I'm sorry it had to end like this," she said through tears. "I just want to thank everybody for watching the match."
Like her previous two matches, Williams got off to a slow start. Osaka got out to a quick 4-1 lead behind two breaks of serve. Osaka's pinpoint placement forced Williams to lay back instead of approaching the net. She served for the set to win 6-2.
Osaka, 20, who admitted after reaching the final she was thrilled with the opportunity to face her favorite player for the title, showed no fear.
She jumped out to a quick 4-1 lead in the first set by breaking Williams, who was struggling to get her first serve in, twice.
Bajin, who served as Williams' hitting coach from 2008-2015, has helped Osaka reach the top of her game in his first year as her coach.
"I feel like since I was working with him, and I tend to be a bit negative on myself, I feel like I've gotten a little bit more optimistic," she said of Bajin after her quarterfinal win. "He tries to make every day really fun and exciting. For someone like me that sort of thinks sometimes things are boring, I think that's good for me."
Osaka defeated Williams earlier this year at the Miami Open, but Williams was early in her comeback and since has advanced to two Grand Slam finals. She lost at Wimbledon to Angelique Kerber 6-3, 6-3.
Osaka holds dual Japan-U.S. citizenship. She was born in Osaka, Japan to a Japanese mother and Haitian-born father. Her father attended college in New York City before moving to Japan for 13 years.
When she was three, Osaka's family moved to New York where they lived with Haitian relatives, and eventually settled in Florida, where shev currently lives in Fort Lauderdale and trains at the Chris Evert Academy in Boca Raton.