Bet9ja new mobile app and How to download it
August 20, 2021
Bet9ja new mobile is sport betting app that makes it easier to stake bet.
If you want to download bet9ja new mobile apk click here.
As soon as you visit the new Bet9ja website, you will be greeted by a nice welcome offer. As a bonus, if you sign up as a new customer and deposit using any of the online payment methods listed on the website (also listed in a later paragraph of our review), you will receive a 100% matched deposit of up to 100,000 NGN. The value is in Nigerian Naira and roughly corresponds to 214 EUR and 260 USD. For example, if you deposit N6000, you will get a bonus of N6000; whereas, if you deposit more than N100,000, the bonus will still be granted to you, but it will cap at N100,000.
In addition to such a bonus, whenever you deposit your first sum of money on the website, you will receive 1 Bet9ja League Free Bet. To learn more about these welcome promotions, we suggest you check out the dedicated webpage, where all the conditions and terms are listed in full. Also, as bonuses like these tend to change quickly over time, it is important that you keep yourself updated before registering so that you know exactly what to expect.
Location and Age Restriction
First of all, it is illegal to sign up on a betting platform without being of age, that is, 18 years old or older. Bet9ja isn't any different, and explicitly requires its users willing to register to be an adult, as clearly indicated in their Terms of Service. If, for whatever reason, you register without being at least 18 years old, then the company may rightfully terminate your account without further notice, refuse to payout the winnings you may have collected, and report the fact to the competent authorities.
Things are a bit more complicated about the location since no precise regulation is set on the Bet9ja website. The company states that if you happen to register and bet on their service in any country that is not Nigeria, then you must be aware of the regulations in force in your region as the site doesn't make any warranties in that regard. Therefore, we advise you to contact your local authorities or the Bet9ja customer support in order to be fully informed on your rights and possibilities regarding online betting.
Sign Up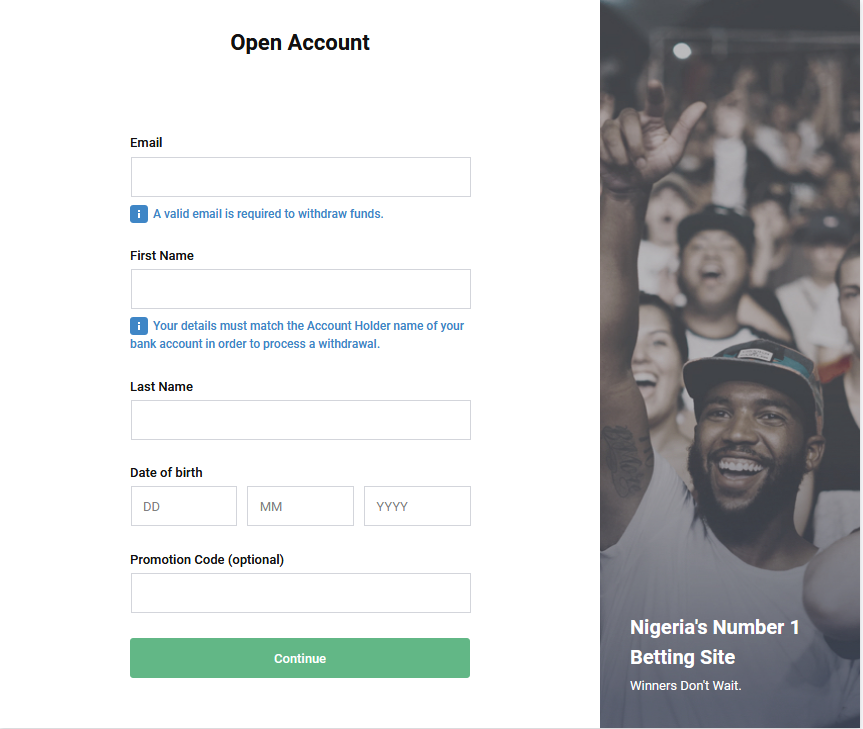 The registration process on Bet9ja is very simple and will take away only a small portion of your time. Check the new Bet9ja website and locate the "Register" button on the top right corner of the page. By clicking on it, you will be redirected to a page on which you will be asked to fill in a form. You have to indicate your email address, first and last name, date of birth, and, eventually, a promo code, if you have any. After that, simply follow the instructions that will appear on the screen, provide some other info, and then confirm your email and wait for your account to be enabled. In a few minutes, you'll be ready to start betting.
Once you have set up your account to access the website again, you won't have to go through the whole process, of course, but simply put in the username and password you have chosen while you were registering. If you ever forget your credentials, there is no need to worry as you'll be able to quickly recover them by clicking on "Forgotten Password".
Deposit and Withdrawal Methods
Being a top bookmaker, Bet9ja offers its customers a wide range of options when it comes to both withdrawing winnings and depositing on the site. However, as the website is located in Nigeria, bear in mind that no international cards are accepted: you may only use Nigerian debit cards, as explained in their FAQ section.
To deposit, you have many online possibilities, including bank deposit and ATM, and we are listing a few more of them below. The minimum amount of deposit possible with a debit card is 100 NGN, the maximum, 10,000 NGN. Using other systems, the max amount may greatly vary.
Interswitch (Mastercard, Visa, Verve)
Quickteller
GT Bank
Polaris Bank
OPAY
Zenith
FirstMonie
When it comes to withdrawals, options are not so varied: the only possible is bank transfers. They are always free, so you don't have to worry about any fee, and may take up to 24 hours, as well as being activated only during banking hours. To withdraw your winnings, all you have to do is go to your account section, click on "Withdraw" and, subsequently, on the bank icon, provide the details you are asked for and then wait for that sweet money to come in your way.
Promotions and Bonuses
Apart from the welcome bonus we already covered, Bet9ja has many surprises for you and constantly innovates its repertoire of promotions. The new Bet9ja site has a "Promotions" section you can check out and lists all the active bonuses available.
For example, the up to 170% multiple boost calculated on multiple bets in which there are five selections or more. It starts from 5% of the potential winning for 5 events, and it increases by 5% with each event added to the bet coupon, up to a limit of 170%. It only applies to those matches with odds equal to 1.20 or more.

New Bet9ja Mobile App
The new Bet9ja mobile app has everything you ever wanted on a betting application. The gambling operator really did its best to provide the best mobile experience possible to their users. The app is available for both Android and iOS devices, so you can easily and quickly download it from both Play and App Store on phones and tablets.
You can find the direct link to the downloads simply from Bet9ja's website, at . Therefore, if you would want to, you could also download the app on your PC by using a third-party program, such as Bluestacks, to open the .apk file. Before downloading, you are given a choice on what to actually download: either Bet9ja sportsbook, its casino, or both. To install it, or them, the process is very simple.
Go to your device's settings and, in Security, tick "Download from Unknown Resources".
Click on the download buttons you find on the web page linked above.
Go to your Files and, in the "Downloads" folder, click on the Bet9ja .apk file to complete the installation.
What can you do with these apps that take up your phone's memory, you ask? Well, a lot, so it's worth the space. The app allows you to bet anywhere you like, whenever you like, from the comfort of your palm. You can even spectate matches and take advantage of the live betting option you would usually enjoy from your PC. Controlling your personal account, all your payments, deposits, withdrawals, and your whole history at any time is also possible, as well as receiving bonuses. Last but not least, not only can you bet live and follow your favorite matches, but you also have the possibility to enjoy some fun casino games to spend the time and get some winnings, all through the dedicated app.
Bet9ja New Mobile Site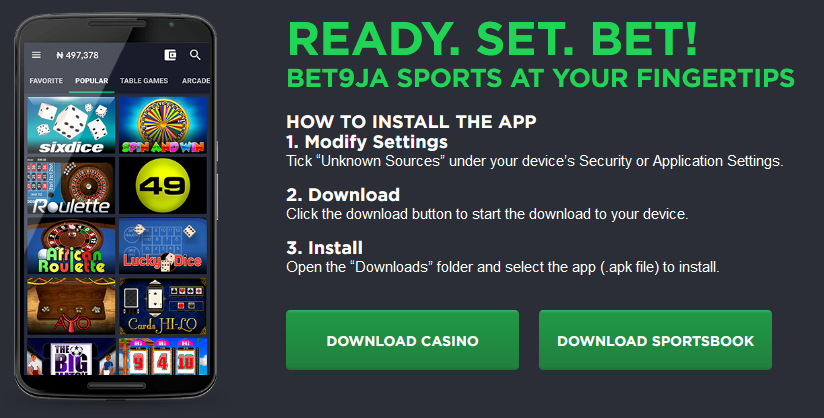 Not only a great mobile app, but bet9ja.com new mobile site is also available for all users to navigate through. You can find it at mobile.bet9ja.com/Mobile and works well on all mobile browsers currently available on phones, tablets, and other devices. It is the perfect solution if you don't want to, or can't, download the apps but are at the same time unable, or find it difficult, to access the betting website through your PC.
Simply grab your mobile device and open the link, you'll be redirected to all the features and options you see on the computer, but on your mobile instead